Isabelle Ljungqvist
Dec 27, 2016 1:00:00 AM


2016 is coming to an end and when we look back, we see how much has happened in social media over the past year. The average user has increased and new platforms have started competing for space. In addition, the social media giants have made several major updates with new functions that have helped them establish their roles as leaders in the field. But what were the biggest trends in 2016?
1. Artificial Intelligence (AI) Made It To Social Media
Who doesn't want to achieve as much as possible from as little work as possible? Quality compared to quantity has always been important in social media, and the concept has only grown during 2016. As the use of social media keeps growing, the need for automated filtering of content increases. To meet this need, Instagram and Facebook have updated their algorithms to ensure that users only see the most relevant content. In the past, our feeds have been time-based and chronological, but now the content is based on relevance (DeMers, Jayson). That means we receive content that's similar to the content we've been engaging with. In other words, a time effective social media feed.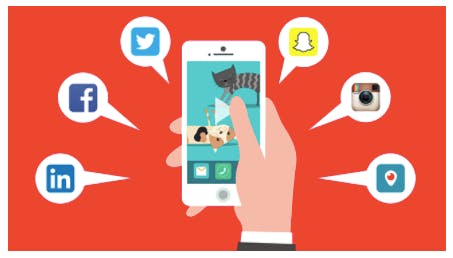 2. Live Streaming and Instagram Live
Video content has established itself in the social media world. Platforms such as YouTube have completely exploded, and the numbers of new users is growing faster than ever. At the same time, our demand for honest and unedited content is growing. Combine these two concepts and you can understand why live videos have become such a hit!
Platforms such as Periscope keep challenging and pushing the market forward, but even giants such as Facebook and Instagram have joined the trend and their live video services have had a major impact. Earlier this week, Instagram Live was launched making it possible for all users to stream directly from their account.
3. Influencer Marketing Investments Are Increasing
The importance of marketing companies on social media is not a new concept. As social media platforms continue to grow, it's becoming increasingly more difficult for companies to stick out on the market. The trust consumers have in traditional ads is lower than ever, and this is helping influencers gain more trust among their followers (Bullas, Jeff). During 2014 and 2015, many companies started realizing how their ROI from influencer marketing grew. This year we have seen how companies spend more on influencer marketing than ever before (Morrison, Kimberlee).
4. Facebook and Snapchat Launch Group Calls
The demand for communication in groups is also growing. Facebook Messenger has offered people the possibility to chat in groups for a long time, and we all have a love-hate relationship with the constant beeping on our phones from all the group chats we have going with friends. This year Facebook took the feature to the next level and launched a group video function that allows upwards of 6 people to talk with each other (bye bye Skype!). Snapchat also joined the development and has made it possible for up to 16 people to communicate at the same time. The trend is here - people want to communicate in groups (Chokkattu, Julian).
5. Self-Deleting Content
Snapchat is a platform where users share unedited material " at the moment," and this unique concept has evolved to a level where Snapchat is competing with Facebook and Instagram. To try and save themselves, both Facebook and Instagram have joined Snapchat in creating functions that let you post self-deleting content. There is something freeing about content that goes away. It makes people more eager to share honest content without having to worry that an ugly selfie will surface years from now. This new type of content is pushing people to take social media less serious and allows for sharing images that aren't perfectly edited like on Instagram.
6. Musica.ly Is Here to Stay
Musica.ly is an app that helps anyone become an artist in no time. Choose a song, hit "Record," and record your own music video or comedy sketch. This app is huge in the United States and Europe, and it has received investments of nearly 70 million dollars. At the time of investment, the company was valued at roughly 500 million dollars.
It's obvious that we can't get enough of social media. We spend more time on our social media platforms than ever before, and few people remember how we ever lived without them. Beatly is looking forward to seeing how social media continues to grow over the coming year and especially to see what trends will reshape the industry in 2017.
Header by Maurício Mascaro from Pexels