Isabelle Ljungqvist
We have already talked about the importance of having an Instagram account for your business (read more here). We've also mentioned that it's important to publish regularly and make sure your account follows a theme. But what kind of pictures should you be posting? Let us offer you some tips!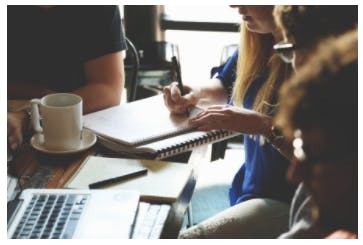 1. Pictures with products.
This might seem obvious but the truth is that many companies forget to post good pictures of their products. Try to be creative and only upload high-quality images.
2. User-generated content.
We love to get inspired by private users and see how they decide to use a product. Use the pictures your consumer's post since they are as real as it gets and gives your account a personal touch. Don't forget to give the users credit by tagging their @instagramccounts in the comments!
3. Influencer pictures.
If you're working with influencers it can be a good idea to use the pictures they post for you. This is a great way of adding value to your brand and it creates a connection between your company and the influencers you work with. Repost influencer's images to give your account a professional feel!
4. Humor.
This can be a tough category to figure out but don't forget that a lot of humor is inclusive. If you find something that gets you and your team crying from laughter, then chances are your fans will find it funny too! Humor is popular, and funny posts have a tendency to get shared more than regular posts since people love to make others laugh!
5. Behind the curtain pictures.
This category is all about creating a personal relationship with your followers. Let the customers see what goes on behind the curtains on a rainy Monday or during your afternoon meeting. Business life is not always glamorous - be real and let your followers experience how you work.
6. Competitions are the best way to boost engagement!
Make sure to activate your followers and give them a reason to stick around by offering competitions. If you're selling a physical product, you can have them compete over that but don't be afraid to think outside the box. There are so many ways you can create a competition. For example, let an influencer run the competition by telling their followers to share how they use a specific product or have them repost your picture on their accounts. Base the strategy and competition on your goals! (Note! Don't forget to make sure the competition is in accordance with the relevant jurisdiction.)
7. Get-to-know-the-team-pictures!
Build relationships by letting your followers meet the people in your team. Put a face on the company and give them the opportunity to familiarize themselves with the talent that helps you out. Who's the office clown? What do you like to do on a day off? Be creative.
8. Inspirational and motivating images.
What inspires you to keep working? Who pushed you to start your business? Share smart quotes and inspiring images that evoke a feeling.
9. Instagram Takeover.
Let a famous influencer take over your account for a day or a specific period to report on a place or an event. This approach can help you gain some of the influencers followers since they tend to want to know what the influencer is up to.
TIPS! Get inspired by 5 companies that do really well on Instagram: