Sofia Kumpumäki
May 2, 2019 2:00:00 AM


Coachella is perhaps the trendiest cultural event in the world. It's a gathering of people where the musical and artistic elite of the world come together to offer once-in-a-lifetime performances, art constellation, and marketing opportunities over two consecutive weekends in April.
Sold as a music and arts festival, Coachella is a unique venture and the biggest annual festival in the United States. Over the last couple of years, the festival has turned into a hotspot for influencers. In fact, during the 2019 edition of the festival, someone called "Coachella the influencer Olympics," and we couldn't agree more.
But what is Coachella? And how come the festival always receives such hype? And more importantly, why is it so effective for influencer marketing?
Let's find out.
What is Coachella?
The history of Coachella spans back to 1993 when Pearl Jam held a concert at the Empire Polo Club in protest against Ticketmaster's monopoly over the Los Angeles music venue market. The concert drew close to 25,000, and a few years later that performance would evolve into a full-blown festival.
In 1999, the first ever Coachella Valley Music and Arts Festival was held at the Empire Polo Club in Indo, California, with Beck, Tool, and Rage Against the Machine as headlines. The goal at the time was to compete with the much larger Woodstock festival and to do so promoters booked artists based on artistry instead of radio popularity. That concept has since changed, and today, the biggest artists of the world perform at Coachella.
The year after, Coachella was canceled due to an oversaturation of music festivals in Southern California as well as financial difficulties, and for 2001 promoters decided to move the festival to April. This was done for two reasons. Firstly, to beat the heat of Southern California in the middle of summer, but also to strategically place themselves as one of the first major music festivals of the year.
Since then, the festival has continued to grow on a year to year basis and some of the world's largest artists ranging from Red Hot Chili Peppers, AC/DC, Coldplay, and Roger Waters to Madonna, Dr. Dre and Snoop Dogg, Drake, as well as Daft Punk, have headlined.
However, music is not the only focus at Coachella, and groundbreaking art and other creative projects are now an integrated part of the festival's branding.
Why Brands Use Coachella for Influencer Marketing
Marketers love Coachella.
Unlike other music festivals where the focus is on the bands and artists performing, Coachella is an all-inclusive event that revolves around exclusiveness and creativity. Combine that with one of the greatest music festivals of all time, the stunning weather of Southern California, and a strong targeting towards millennials, and you have the perfect foundation for influencer marketing. Coachella is also one of the first major annual festivals in the world, which means it provides the first festival opportunity for brands to promote their products. Better yet, the festival arranger Goldenvoice isn't afraid of inviting brands to promote at the festival, and they charge a hefty fee that helps pay for the spectacle. And don't think that just anyone can use Coachella for their influencer marketing strategies. Due to the astronomical cost of partnering with Goldenvoice, influencer marketing at Coachella is exclusively for major international brands or companies that have a colossal marketing budget.
But there is more to the equation than that.
Since Coachella boasts a mixture of world-class artists and tens of thousands of attendees (many being millennials), brands can combine micro and even nano influencers with celebrity influencers, thus reaching a huge target group. In 2019, one brand even used a non-human influencer, but more about that in a second. In other words, Coachella is the epitome of influencer marketing, and promoters are fully aware of this. Also, due to the festival's status as a mecca for influencer marketing, influencers tend to flock to the festival hoping to get their piece of the puzzle while selling their trendy festival lifestyle.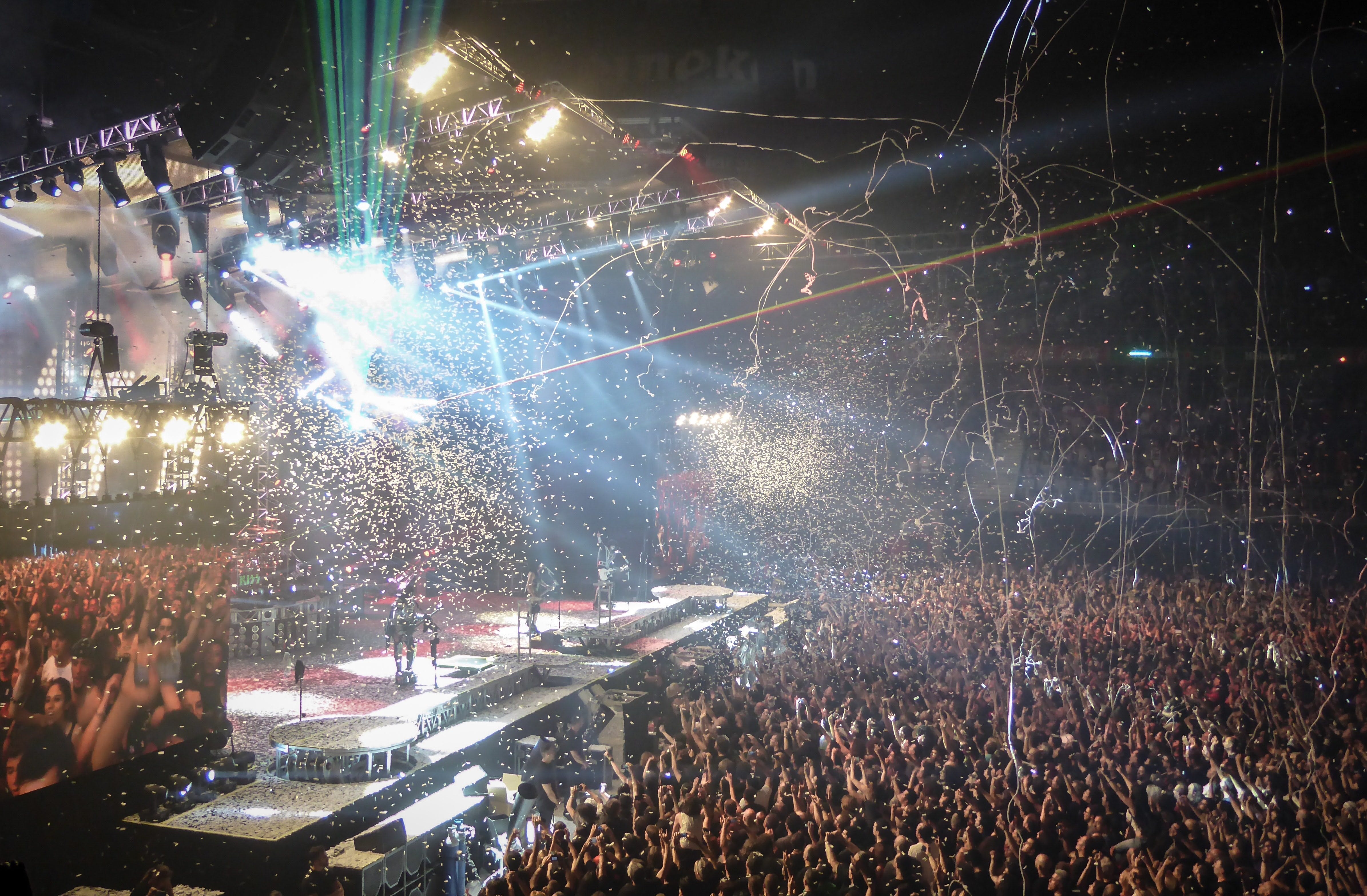 Influencer Marketing at Coachella
In 2019, the influencer marketing of Coachella reached new heights, and for the better part of two festival weekends as well as the week in between, the festival took over Instagram's story feed and was also trending on Twitter. And as soon as we take a look at some of the most notable brands promoting at Coachella 2019, it becomes evident just how big this thing is.
Brands Promoting at Coachella in 2019:
HP
HP was one of the main brands and sponsors, and they were even given the opportunity to host an exclusive "pre-Coachella event," where they combined a 360-degree screen with both visuals and sounds using HP technology. They also set up their own HP lounge where visitors could hang-out and test a range of HP's products.
YouTube Music
YouTube Music decided to embrace influencer marketing completely and partnered up with AI influencer Lil Miquela. The collaboration included Miquela's own Coachella Playlist as well as the AI influencer conducting interviews with some of the artists. Naturally, all of this was documented on the influencer's Instagram account.
YouTube has also live streamed the opening of Coachella since 2011.
Amazon
Amazon provided both lockers to attendees as well as the opportunity for festival goers to pre-order a package with festival essentials that could be picked up at the location. By promoting this initiative with a range of influencers, the tech behemoth further established themselves as one of the most relevant brands right now.
BMW
BMW was the official transport partner of Coachella, and they focused all of their energy on celebrity influencers including Khalid, Paris Hilton, and more who were given unique BMW cars to drive to the festival using the hashtag #RoadtoCoachella.
Heineken
Heineken was given the opportunity to have their own venue at the festival where they hosted some of the most notable performances of the event including one with P Diddy. In addition, Calvin Klein had influencers sporting their clothing at the festival, and American Express was one of the main sponsors. Moreover, both NYX Cosmetics and Sephora (who worked with Rachel Zoe) offered makeovers and beauty products. Absolut Vodka worked with a range of influencers of different sizes to promote their products, and luxury fashion brand SHEIN set up an exclusive resort just outside of the festival area where they hosted several events.
Has Coachella Lost Its Music Focus?
All things considered, Coachella 2019 was a never-ending array of massive influencer marketing efforts, and even though no official numbers have been released by the brands yet, we can only assume that it was a hit for all of them.
In our opinion, the answer is no, Coachella has not lost its focus on music.
That being said, Coachella has been able to keep up with the rapid developments in our society, and they are not scared of jumping on trends or inviting artist capable of sparking new trends. In fact, we would argue and say that Coachella is as much of a music festival as Glastonbury or any of the other major festivals. The difference being the promoters ability to adapt to our ever-changing world and making use of new technology to promote and fund the festival.
You see, there wouldn't be a Coachella without the music and a line up consisting of the biggest artists at the moment. But a the same time, there wouldn't be a Coachella without the influencer marketing. In other words, as long as brands are able and willing to use Coachella as a marketing platform and brands continue to show up to the festival, Coachella is going nowhere. Let's not forget that Coachella is a music and arts festival and that music was never the only focus, even though it is the main one.

Interesting Facts About Coachella:
Being First is Key
Being the fact that Coachella is one of the first music festivals of the season, they also try to be the first to release their line-up. This is usually done around New Years, and it includes contracts with the booked artists that keep them from promoting any of their festival gigs before Coachella has released their lineup.
Remember, it's all about exclusiveness.
Revenue is Going Through the Roof
Despite the fact that the number of attendees isn't growing so much on a year to year basis, Coachella's revenue is. This can, in many cases, be traced back to their commitment to influencer marketing and allowing brands to use Coachella for promotion.
Tupac Shakur and Reunions
Over the years, Coachella has been the host of several historical concerts, venues, and events. For example, the late Tupac Shakur once performed as a projection together with Dr. Dre and Snoop Dogg when they both headlined the festival in 2012. Coachella has also been host to several iconic reunions such as Iggy Pop and the Stooges, N.W.A, LCD Soundsystem, Outkast, and more.
Header by Garon Piceli from Pexels