Isabelle Ljungqvist
Hashtag, a word that was completely new to most of us just a few years ago now has a good chance of making it into the Svenska Akademiens Ordlista (the official glossary in Sweden) for 2016. Hashtags also happen to be the best method to help you grow your Instagram account!
Hashtags ensure that the content and pictures we publish on social media show up in searches. Instagram is a popular channel to find inspiration on every topic and in every area of life. There are currently 16 million pictures live on Instagram and hashtags help us sort through the huge amount of available content.
A few years ago, most of us went on Google to search for tips and ideas for our vacation. Today, more and more people are instead searching on Instagram using hashtags related to the places they want to visit. The hashtag #NYC gives more than 50 million results and the Swedish capital #Stockholm provides 5 million hits. Using hashtags are also great when we're looking for a new lipstick, cool sneakers, or to check what wallpapers are trending. In other words, hashtags are a quick and very effective tool to find inspiration. ELLE's trend-bible - Watch out or you will be outdated before you're printed!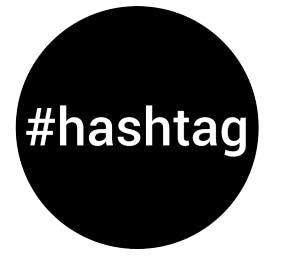 Why Do We Love Hashtags?
We love hashtags because they provide us with real-time updates about what people all over the world are eating, how they dress, where they live, and everything under the sun. Hashtags open up a door to a new inspiring world full of content from other every day people and relevant sources - it makes social media feel more reliable, genuine, and exciting!
Why Should You Use Hashtags?
By using hashtags, you make sure people can search for your images which naturally leads to more likes and even followers. If you use hashtags that are relevant to your posts, brand, and company, you can reach your target group directly! #winwin
How Do I Choose Which Hashtags to Use?
1. Use popular hashtags that many people search for. At the time of writing the following hashtags were the most popular: #beautiful, #cute, #summer, #me. Just keep in mind that the hashtag needs to be relevant to the picture you post and the company you represent. Try and search for the hashtags that you think would be relevant and use the ones that seem popular.
2. Use hashtags that your target group searches for. You should figure out what accounts your target group follows on Instagram and then use similar hashtags as those accounts to grow your own following. What hashtags are being used? What does your target group search for? Steal with pride from the companies that are similar to yours and already do well on Instagram.
3. Don't be shy. A recent study showed that 11+ hashtags result in the best engagement. Be creative but relevant!
Try and copy paste one of the hashtags below in a comment on one of your posts and see what happens! Don't forget to remove other hashtags since you can only use 30 on each post.
#love #beautiful #cute #tweegram #photooftheday #20likes #amazing #smile #follow4follow #like4like #look #instalike #igers #picoftheday #food #instadaily #instafollow #followme #girl #iphoneonly #instagood #bestoftheday #instacool #instago #all_shots #follow #webstagram #colorful #style #swag
Now it's time for trial and error - learn from your mistakes and from your successes!
Photo by Jeremy Levin from Pexels